Hotel & Travel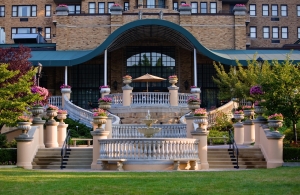 Omni Shoreham Hotel
2500 Calvert Street NW, Washington, D.C., 20008
(202) 234-0700
Visit Website

The conference will take place at the hotel.



Accommodations
Hotel reservations need to be made by March 15, 2024.

You can book your hotel reservation by following this link.

Why stay at the contracted hotel?
ACPM has secured a block or rooms for attendees at the Omni Shoreham Hotel. The hotel is providing discounted rates based on a guaranteed percentage of attendees staying in the official conference hotel. It is important ACPM meets this commitment and we thank you for booking your accommodations directly with the Omni Shoreham.

When you book your room with the official hotel, you receive the following benefits:
Peace of mind that you have a reservation at the "official" conference hotel at the discounted rate
Complimentary internet access in your room
Protection in the event the hotel has oversold guest rooms

When rooms are not booked as part of the room block:
ACPM is exposed to penalties for not fulfilling our room block commitments. By avoiding hotel penalties, ACPM is able to keep conference costs down.
It could hurt ACPM's ability to rebook preferred hotels and negotiate rates for future conferences.
It risks ACPM losing qualification for the amount of meeting space.
ACPM is unable to assist with any issues related to lost reservations.
ACPM is unable to protect attendees if the hotel 'oversells' its room inventory.

Please support the conference and ACPM's efforts to reduce costs by staying at the official hotel. We think you will find the increased networking opportunities, quality hotel services, and amenities to be worth it!
---
NOTE: Hotel rooms should be booked directly with the Omni Shoreham Hotel. ACPM does not use a third-party booking service.

Scam housing companies frequently approach Preventive Medicine 2024 attendees with fraudulent offerings of hotel rooms. Attendees easily fall prey to these imposters losing significant deposits, discovering hidden costs, up front charges, or being bait and switched to hotel rooms they never booked.

These companies are in no way affiliated with Preventive Medicine 2024 or the Omni Shoreham Hotel. They troll the internet and association websites looking for trade show events.

The Omni Shoreham Hotel is the only hotel for this conference. The conference does not use a housing company and the Omni Shoreham Hotel will not contact you directly to make a reservation. Booking through the Omni Shoreham Hotel ensures you will be working with the hotel, your credit card information is secure, and you will benefit from all services provided to conference attendees at the official hotel.

If you are contacted by anyone asking if you need a room reservation for Preventive Medicine 2024, or if they represent themselves as an "ACPM housing provider," please get as much information as you can, and contact info@acpm.org.
---
Local Travel
The hotel is located 1 block from the Woodley Park/Zoo Metro Station on the Red Line. Once you have exited the Metro via the escalators, go to the right and down the stairs. Go to the left and walk to Calvert Street (1 block). Cross the street and take a right. The hotel will be on your left-hand side.
Parking
Valet parking including in/out privileges ($55 per car daily) is available on-site for the following rates:

0 – 4 hours: $35
4 – 24 hours: $55
Daily max: $55

EVENT INFORMATION
April 18-21, 2024
Washington, D.C.